Hua long dian jing
The expression
paint the dragon's eyes
stems from a classic Chinese quote.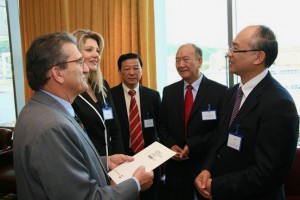 It is used in situations when someone manages to sum up the gist of what is being said in one or two words.
Budapest-based TransJet Translation Agency provides high-quality linguistic services in Chinese-Hungarian and Chinese-English language pairs as well as special protocol and business etiquette consulting.
Right at the moment of its establishment, the company placed commitment to high-level professional work and outstanding quality at the centre of its business philosophy, and the success of this intention is reflected in a wide-reaching network of professional contacts built over many years of operation.
Regular clients of the Agency include representatives of the Hungarian public administration and corporate sector as well as Chinese business men and diplomats coming to the country to build and foster economic and interstate relations.
TransJet Translation Agency was founded at the beginning of 2010 by experts with more than 15 years of translation and interpretation as well as business and cultural experience, with the aim of bringing internationally recognised experts who are among the best in Hungary together into one association.
All associates of TransJet Translation Agency are certified specialised interpreters and translators, in possession of the necessary certificates and official documents.